Press Release
Jaffer Sharief wants judicial probe into Wakf Scam
Former Union Minister and Senior Congress Leader C K Jaffer Sharief today demanded judicial inquiry into allegations of his involvement in encroachment of wakf property in Karnataka.
Read More...
Even Jaffer Sharief is cheering the Railway budget
Experts say this is one of the best railway budgets for Karnataka as it has met most of the demands needed for the state's development. Former railway minister Jaffer Sharief agrees and pats Mamata didi saying "this is a very good budget."
Read More...
Newcomers should wait: Jaffer Sharief
The Congress is not like a readymade garment which one can purchase and wear on the spot without taking the trouble of going to a tailor for stitching.
Read More...
C Narayanaswamy vs C.K. Jaffar Sharief And Ors on 9 August, 1994
The Judgment of the Court was delivered by N.P. SINGH, J. These appeals have been filed against the judgment of the High Court dismissing , two election petition$ filed on behalf of the appellants, questioning the validity ofthe election of respondent C.K. Jaffar Sharief (hereinafter referred to as "the respondent') to the Lok Sabha from Bangalore North Lok Sabha Constituency.
Read More...
Department-Related Parliamentary Standing Committee On Home Affairs
The Chairman of the Department-related Parliamentary Standing Committee on Home Affairs having been authorized by the Committee to present the Report on its behalf, do hereby present this Ninty-fourth Report on the Supreme Court Judges (Salaries and Conditions of Service) Amendment Bill, 2002
Read More...
Verses of contention
Louise Fernandes' article in SUNDAY on Salman Rushdie led to the closure of the Jamia Millia University and raised a political storm. A section of the media even accused her of trying to gain mileage out of the controversy. This is her account of the storm
Read More...
C K Jaffer Sharief celebrates his 77th birthday
Senior Congress leader C K Jaffer Sharief celebrates his 77th birthday at his house at Coles Park on Wednesday
Read More...
Wanted - a strong lobby for railways
For long IE has been emphasizing the imperative for focusing on railways and not just on the highways. The road transport lobby has been powerful and vocal. Led by large manufacturers of commercial vehicles, passenger cars and two wheelers and by large developers in the infrastructure sector, road development received continuous and sizable attention.
Read More...
Train from Bangarpet to Ajmer
The Railway department is planning to introduce a direct train from Bangarpet to Ajmer to facilitate the devotees visiting Ajmer from Kolar district. Mr. Muniyappa, Minister of State for Railways said, "I will also be planning to introduce a train between Nagore Sharif (Tamil Nadu) and Ajmer."
Read More...
With the inauguration of the first stretch of the Bangalore Metro
AFTER having missed several deadlines, the much-awaited Bangalore Metro finally began operations on October 20 on its first stretch – Reach 1 of the Eastern line, part of Phase I of the Metro project.
Read More...
CM's post: Sharief Lobbies with Sonia
Mr C K Jaffer Sharief, said to be in the race for the Karnataka Chief Ministership, today had a meeting with Congress President Sonia Gandhi, in what is seen as a bid to lobby with the leadership in his favour.
Read More...
On the wrong track
Trade unions prepare for a struggle as the Central government-appointed Rakesh Mohan Committee recommends far-reaching changes in the structure of the Indian Railways
Read More...
I do not criticise for publicity: Jaffer Sharief
Continuing his tirade, senior Congress MP C K Jaffer Sharief on Tuesday stated that his criticism of the state government was only aimed at highlighting problems affecting people.
Read More...
Nurture democratic values: Jaffer Sharief
It is the responsibility of every citizen of our country to nurture democratic values, the former Union Railway Minister C.K. Jaffer Sharief has said.
Read More...
Sharief says resignation not pressure tactic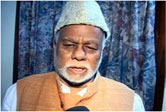 Karnataka Congress leader C K Jaffer Sharief dropped a bomb on Friday when he sent his resignation over to the leadership. Jaffer Sharief was upset that his grandson was denied a ticket. CNN-IBN's Divyamanu Chaudhary spoke to the leader who said that he was keeping his options open.
Read More...
Tolerance on Track in India
Like a lightening bolt of hope, the blue train travels to distant corners of India carrying the message of peace, harmony and justice, reminding Indians of the teachings of Swami Vivekananda, Mahatma Gandhi and Acharya Vinobha. Called the Sadbhavana Rail Yatra, this unique project on wheels is the masterwork of Shri S.N. Subba Rao, an eminent Gandhian, sexagenarian and livewire of the National Youth Project.
Read More...
Amendment in Law to Prevent Black Money
A Committee headed by the Chairman, CBDT has been constituted to examine ways to strengthen laws to curb generation of black-money in India, its illegal transfer abroad and its recovery.
Read More...
Old-timers take a trip down memory lane
As the Congress Party prepares for the 81st AICC plenary session, memories of January 1960 come floating back in sepia tones. It was another time, long gone by. But the space was the same and so was the purpose.
Read More...
Railway Budget 1992-93
General Discussion; Resolution Re. Recommenda- Tions Of The Railway Convention Committee;Demands For Grants (Railways), 1992-93;And Supplementary Demands For Grants (Railways), 1991-92

Read More...
Union govt dangles counter-guarantee for Cogentrix
Power Minister P R Kumaramangalam on Thursday assured the Lok Sabha that the national government would give the counter-guarantee to the Cogentrix power project in Karnataka within a week, provided the state government complied with certain formalities.
Read More...
Indira Gandhi Musical Fountain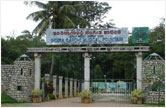 Indira Gandhi Musical Fountain, T. Chowdaiah Road, Opposite Planetorium was created by B N A Technology Consulting Ltd, Hong Kong in 1995. Indira Gandhi Musical Fountain is perhaps the most technically advanced and the biggest fountains in India.
Read More...
Jaffer Sharief Resents Rise of Migrants in Congress
Former union railway minister and veteran Congress leader, C K Jaffer Sharief, has openly revolted against the party, which he says, has of late, been accommodating migrant leaders from other parties at the cost of original, sincere, Congressmen.
Read More...
Jaffer Sharief Indira Gandhi
At a time when the younger generation, the bulk of the Indian Population, knows little about the history of the last six decades.
Read More...
Portraits of India's Parliamentarians for the New Millennium
Sixty-seven year old C.K Jaffer Sharief, a veteran Cogressman from Karnataka, is an eighth time member who has been a minister under a three Prime Ministers, Indira Gandhi, Rajiv Gandhi, P.V. Narshimha Rao.
Read More...
Bangaloreans recall a cataclysmic day
For a certain generation, it was an unforgettable day. The news spread mostly through trunk calls and teleprinters. The first assassination of a Prime Minister in office sent shock waves throughout the country whose ripples reached Bangalore in minutes.
Read More...
Sonia saved Congress from disintegration
KARIMNAGAR: APSRTC chairman M. Satyanarayana Rao has opined that the Congress would have been disintegrated into splinter groups if AICC president Sonia Gandhi did not join politics and take up the reigns of the party after the death of former Prime Minister Rajiv Gandhi.
Read More...
One-thousand three-hundred & ninety-four words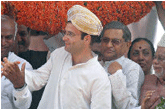 In 1997, when Outlook crowned the then Congress president Sitaram Kesri as the Villain of the Year, the magazine's managing editor Tarun J. Tejpal described why Kesri had been picked for the dubious honour by simply describing the three pictures that had been used to illustrate the article.
Read More...
Overheard on the campaign trail
CK Jaffer Sharief's office is easy to find once you're in the Coles Park area – just ask anyone on the street. And when campaign posters show up more frequently on streetlight poles, you know you're getting closer.
Read More...
Indira loyalists feel Sonia heat
Two top Congress leaders are skipping their leader, Sonia Gandhi's inauguration of the party campaign for the Lok Sabha elections at Davangere on Monday. Both are unhappy over the state of affairs in the party.Former railway minister CK Jaffer Sharief is not going to Davangere. So is former law minister DB Chandre Gowda.
Read More...
Budget(Railways): Discussion And Voting On The Demands For Grants In .. on 21 April, 2003
The House will now take up discussion and voting on the Demands for Grants in respect of the Budget (Railways) for the year 2003-2004. Hon. Members present in the House whose cut motions to the Demands for Grants in respect of the Budget (Railways).
Read More...
Budget (Railways): Combined Discussion On The Railway Budget For The ... on 4 March, 2003
Combined discussion on the Railway Budget for the year 2003-2004; Demands for Grants o Account (Railways) in respect of the Budget (Railways) for the year 2003-2004; Supplementary Demand for Grants in respect of Budget (Railways) for the year 2002-2003
Read More...
Request the Railways to consider the people for Group C and D Posts
Mr. Deputy-Speaker, Sir, a grave injustice is sought to be done by the Sambalpur Division of the South Eastern Railway. In 1989, the South Eastern Railway, the Railway Board and the Ministry of Railways have passed an order saying that all those people who are losing their land because of a railway line passing through that land would be considered for Group C and Group D posts.
Read More...
Indira Gandhi, Death Anniversary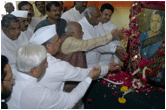 Congress leaders Mallikarjuna Kharge, Jaffer Sherif, N Dharam Singh, Harnalli Ramaswamy H K Patil, D B Chandre Gowda and others paying a floral tribute to the potrait of former Prime Minister Indira Gandhi on her death anniversary at KPCC office in Bangalore on October 31, 2006. Photo: K. Bhagya Prakash
Read More...
Forum to honour unsung heroes of Belgaum dist
Swatantrya Sainikara Smaranotsav Samiti (SSSS) of Belgaum will felicitate freedom fighters in the district on Thursday at Mahatma Gandhi Bhavan here.
Read More...
Collective leadership key to Congress revival: Sharief
Former railway minister C.K. Jaffer Sharief has always been a diehard loyalist of the Gandhi family, right from the days when Indira Gandhi was prime minister. The 77-year-old veteran leader, who originally hails from Chitradurga, is one of those whom the Congress leadership looks to for crucial advice when things are not going right for the party in the state. They know quite well that Mr Sharief.
Read More...
Jama Masjid Shahi Imam Remembered For His Legendary
Fire-brand Shahi Imam of historic Jama Masjid, Maulana Syed Abdullah Bukhari is no more, but memories of his legendary role live on. He is credited for being among the first Muslim clerics who strongly spoke and worked constructively to redress grievances of Indian Muslims.
Read More...
Gundu Rao was known for his boldness
A biography of the late R. Gundu Rao, former Chief Minister of Karnataka, was released in Bangalore on Sunday. The book, Nenapu-Srigandha, authored by journalist Manoj Gouda Patil, was released by Gundu Rao's wife Varalakshmi Gundu Rao at a function organised by the Gundu Rao Memorial Trust to mark his 71st birth anniversary.
Read More...
Dilli doorast? Take a dynasty detour
Braving the cold and fog, a group of Youth Congress workers have set out on a 750-km hike to Delhi. Their destination: 10 Janpath; their mission: to persuade Sonia Gandhi to draft daughter Priyanka Gandhi Vadra into politics.
Read More...
Sharief reaffirms loyalty to Sonia
In an apparent move to reaffirm loyalty to party president Sonia Gandhi, senior Congress leader C K Jaffar Sharief on Sunday asserted that she was the only leader who was a unifying force of Congress.
Read More...
The wounded tiger roars
A five-time MP from Bangalore North constituency until he lost to the BJP in the last Lok Sabha elections, CK Jaffer Sharief is all set for a comeback this time.
Read More...
BJP raids Indira, Rajiv shelves for sari defence
Senior BJP leaders believe that the Election Commission may have overreached itself by issuing a showcause to the party over the April 12 Lucknow sari stampede.
Read More...
Funeral -The Chiefs And The Supreme Commander Were Absent
The passing away of the only Indian to be appointed Field Marshalwhen in active service has been remarkable for the warmth of the ordinary men and women, who queued up to say meebeenamet to the adorable dikra who put his life on the line for them.
Read More...
Parties woo urban voters Traders sore over octroi issue
The campaign of Pradesh Congress President, Capt Amarinder Singh's wife, Parneet Kaur has picked up in the final run up to the poll in this constituency where SAD candidate Surjit Singh Rakhra seems to have an edge over the Sarb Hind Shiromani Akali Dal nominee, Mr Prem Singh Chandumajra, who is, however, putting up a spirited fight.
Read More...
India News: Intersting Developments In Cong. Camp
The internal convulsions within the Congress party, still reeling under the severest poll debacle in its history, continued with Rajesh Pilot and K Karunakaran both demanding on Saturday that P V Narasimha Rao own sole responsibility for the party's debacle.
Read More...
Sharief Wooing non-BJP Opp
The Congress is making a concerted bid to ensure that the non-BJP Opposition does not join hands with BJP
Read More...
Down Memory Lane
Union railway minister C.K Jaffer Sharief has risen in life a humble beginning.
Read More...
Mamata Takes Up Sougata Fight
Taking up cudgels on behalf of Sougata Roy, Mamata Banerjee today said chief minister Buddhadeb Bhattacharjee will have to apologise to her party if he wants to meet Trinamul Congress MLAs and MPs.
Read More...
Bonanza: seven new trains for State
The Railway Budget 2010-11, presented by Union Minister for Railways Mamata Banerjee on Wednesday was full of promises on creating infrastructure for Karnataka even as the Minister gave seven new trains to the State.
Read More...
Congress Sandesh
National Rural Employment Guarantee
Read More...
Angry Muslims gather around Sharief
Around 75 Muslim member of the All India Congress met on sunday at the Akbar Road resident of Union Railway Minister C.K Jaffer Sharief
Read More...
Former Ministers' role in public life lauded
The city on Sunday witnessed the birthday celebrations of two veteran politicians who were felicitated for their contributions to public life. While veteran parliamentarian and former Union Minister M.S. Gurupadaswamy celebrated his 85th birthday, former Union Minister and five-time MP V. Srinivas Prasad celebrated his 58th birthday.
Read More...
TADA, a ghost best forgotten
Six years after it lapsed TADA still causes shiver under the spines of those who suffered under this draconian act. Thousands are still languishing under this act in numerous jails across the country. Most of them without appearing before the court even once.
Read More...
C K Jaffer Sharif
C K Jaffer Sharif - Congress leader and Union Railway Minister in his office before presenting the Railway Budget in the Capital, on March 15, 1995.
Read More...
STOP ATTACKING Muslims: JAFFER SHARIEF TO BJP
Former Railway Minister C.K. Jaffer Sharief on April 6 said Hindus could not be united on communal lines and the BJP should give up its policy of attacking Muslims to seek votes from the majority community.
Read More...
How Karnataka Votes? - No Match for the BJP
Bangalore: Thanks to the disarray within Congress and hereditary nature of the leadership of Janata Dal Secular (JDS), the BJP has firmed up its grip on Karnataka. The Lok Sabha elections 2009 saw the BJP wresting 19 of the 28 Lok Sabha seats from the State and garnering as much as 42.3 per cent of popular votes cast.
Read More...
BJP fighting unitedly in Bellary: Ananth Kumar
BJP leader Ananth Kumar on Sunday asserted that party was fighting the bypoll to the Bellary rural assembly segment unitedly and the unity will bring them victory.
Read More...
Do You Want To Reach The Decision Makers ?
Whispersinthecorridors.com now brings you a round up of the classified advertisements to reach across the globe.
Read More...
Congress Caught in Srikrishna Web
The Congress party-led Democratic Front government is now caught in the web of the Srikrishna Commission report on the 1992-93 communal riots. With the fears of snap elections troubling both Congress and its alliance partner the Nationalist Congress Party (NCP), the mention of three Congress ministers in the report has shaken the government of Chief Minister Vilasrao Deshmukh.
Read More...
Kollur Mallappa passes away
Kollur Mallappa (99), once regarded as the kingmaker of Karnataka politics, passed away at the Bowring and Lady Curzon Hospital here today after prolonged illness.
Read More...
Deve Gowda is still secular, says Jaffer Sharief
Senior Congress leader and former union minister C K Jaffer Sharief on Monday said former prime minister and JD-S supremo H D Deve Gowda is a 'secular leader' despite the fact that his party joined hands with the BJP to form a coalition government in the State.
Read More...
Jaffer Sharief celebrates 75th birthday
The 75th birthday celebration of senior Congress leader C K Jaffer Sharief turned out to be a get-together of his friends and followers rather than being a party affair.
Read More...
Sharief vouches for Deve Gowda's secular ideology
Veteran Congressman and former Union Minister C.K. Jaffer Sharief has vouched for the secular ideology of Janata Dal (S) supremo and former Prime Minister H.D. Deve Gowda.
Read More...
Jaffer Sharief can contest from Bangalore North
Sangliana, who's hopped from the BJP to the Congress, is hoping to pip Sharief to the post and contest from Bangalore Central. He says he's done enough for the rural areas and now wants to turn to urban Bangalore'
Read More...
Jaffer Sharief facing formidable challenge in Bangalore North
Former Railway Minister C K Jaffer Sharief is facing a formidable challange in his own citadel in Bangalore North parliamentary constituency from 'Supercop' H T Sangliana, as also from JD(S) rival,C M Ibrahim.
Read More...
Loksabha Election - 2009
For long Bangalore North has been the citadel of former Railway Minister and Congress veteran C K Jaffer Sharief, who had won 7 times from here area starting from 1977.
Read More...
Most Muslims secular, but religious leaders should fight extremism: PM
Underlining once again that he can "feel the pain of attempts to taint the entire (Muslim) community as terrorists because of the mistakes of a few," Prime Minister Manmohan Singh has called on religious leaders to unitedly fight against the spread of extremism.
Read More...
Karnataka Assembly Elections 2008 - Complete Coverage
The Congress party, which has already promised the poor families in Karnataka a colour TV each if voted to power in the elections to the state legislature in May, Thursday sought to woo minority votes by assuring implementation of the Sachar panel recommendations for their uplift.
Read More...
Leaders shower praise on Jaffer Sharief
A galaxy of senior leaders of different political affiliations, including the former Vice-President Bhairon Singh Shekhawat and two Hindu mathadhipatis, on Monday, paid rich tributes to the former Railway Minister and senior Congress leader C.K. Jaffer Sharief for his contribution to the development of railway infrastructure and strengthening the secular fabric of society.
Read More...
C K Jaffer Sharief lost from Bangalore North
This is big disappointment for C K Jaffer Sharief.. he lost to BJP candidate D B Chandre Gouda in Bangalore North constituency. In the morning, when couting started, C K Jaffer Sharief was surely leading and expecting the easy victory.
Read More...
The Minorities Don't Want Rao
Many Muslims hold Prime Minister Rao personally responsible for the demolition of the Babri Masjid.It is wrong to hold him personally responsible when everybody knows it is the BJP, the Kalyan Singh government and the Shiv Sena who have taken credit for it.
Read More...
Wooing The Muslim Voter
LAHOL Wa-la Quwwat is a prayer from the Quran aimed at warding off major disasters or devils. With the demolitionof the Babri Masjid still fresh in their memory, this July Muslim residents of Bareilly Sharief in Uttar Pradesh recited the Lahol and locked the famous Ala Hazrat Dargah as Prime Minister P.V. Narasimha Rao waited in vain in the circuit house, 7 km fromthe shrine, for permission to pay homage.
Read More...
More vote for Congress if Rao is not the Leader
Is Narasimha Rao personally responsible for the demolition of the Babri Masjid ?
Yes : 645
No : 28%
Don't Know/Can't say : 8%
Read More...
Who Will The Muslims Vote For?
With the next Lok Sabha elections at best five to six months away, every political party or combine is busy honing its strategy to woo various sections of the electorate.
Read More...
JD-S to support Congress in 3 LS seats
The Janata Dal (Secular), which took the lead in the formation of a Third Front at Dobbaspet near Bangalore last month, has entered into what has been termed as "tacit understanding" with Congress besides entering into a seat-sharing with the CPI (M) and CPI in Karnataka.
Read More...
JD-S to support Congress in 3 LS seats
The Janata Dal (Secular), which took the lead in the formation of a Third Front at Dobbaspet near Bangalore last month, has entered into what has been termed as "tacit understanding" with Congress besides entering into a seat-sharing with the CPI (M) and CPI in Karnataka.
Read More...
595 Motion of No Confidence in the Council of Ministers
Sir, there are two things. Firstly, they must come forward bodely to save the nation and chage the Prime Minister. Secondly, all the secular forces, patriotic forces, backward classes and the minorites should come together to fight fascism in this country. The Congress can come along much better then. They must establish their credentials.
Read More...
Lok sabha Election 2009 with Zameer Ahmed
The newly carved Bangalore Central constituency is all set for the battle of Amar, Akbar and Anthony, the nickname by which the three main contenders are popularly known in this constituency. This clash of titans has all the ingredients to make it a sure sandalwood potboiler just like the famous movie Amar Akbar Anthony immortalized by Bollyhood.
Read More...
Jaffer Sharief welcomes Krishna's return
Former Union minister and veteran Congress leader C K Jaffer Sharief on Wednesday welcomed S M Krishna's decision to resume active political life relinquishing the post of Maharashtra Governor.
Read More...
Sonia gives up pole position to woo allies
Sonia Gandhi today appeared to suggest that the alliance the Congress is proposing need not project her as the prime ministerial candidate as it goes into elections.
Read More...
Winnability Factor Key to Fileding Muslim Candidate: Yeddurappa
With the Congress and the JD-S fielding atleast five Muslimf candidate for the next Lok Sabha Election
Read More...
Sharief to be Saudi envoy?
The Congress Party has a tradition of rewarding loyalists. Now, it seems to be the turn of former Union minister and sulking Congress leader C K Jaffer Sharief. The party is contemplating sending him to the Kingdom of Saudi Arabia - not on a pilgrimage, but as an ambassador.
Read More...
Fighting for the Muslim vote
With general elections just around the corner, India's political parties are scrambling to win the support of the country's Muslim population. Even the Bharatiya Janata Party (BJP), a Hindu nationalist party, is going all out to court the Muslim vote.
Read More...
Sharief-Gowda talks trigger speculation
Triggering speculation in the Janata Dal-Secular (JD-S) and Congress, senior Congress leader C K Jaffer Sharief on Wednesday met former Prime Minister and JD(S) supremo H D Deve Gowda at the latter's residence here on Wednesday.
Read More...
Nirmaladeshpande.org
I am happy to know that Akil Bharat Rachanatmak Samaj is holding its Annual Conference at Tirupati on 2nd and 3rd September, 1994. The Samaj has been rendering useful service for the cause of social change through non-violent means.
Read More...
Cong storms back to power in Karnataka
After a five-year gap, the Congress stormed back to power in Karnataka but the ruling Shiv Sena-BJP alliance was maintaining its lead in the Maharashtra Assembly elections and the ruling Telugu Desam party was on course for a comfortable majority in Andhra Pradesh.
Read More...
Karnataka Assembly Elections: An Overview
Ever since the first general election of 1952 other then for six years Jantha rule
Read More...
Jafar Sharif to Be New Maharashtra Governor
Former Railway Minister and prominent Karnataka state Congress leader C.K. Jafar Sharif is tipped to take over as Maharashtra governor.
Read More...
Jharkhand governor likely to shift to Maharashtra
Jharkhand governor K Sankaranarayanan will, in all probability, be the new governor of Maharashtra.
Read More...
Solapur debacle spawns blame game
A four-member committee set up by the Congress' Maharashtra unit on Friday to probe the reasons for its defeat in the Solapur Lok Sabha byelection will formally give its report in three weeks.
Read More...
New Lines, Gauge Conversions and Doublings
The following new line projects and sections, totalling 277 km, are targeted for opening before the end of March, 1992:
1 . Trichur-Guruvayoor
Read More...
M.G.BALAKRISHNA RAO, VFI-BLR-INTL, 91-80-2269920
Jawans of the Eastern Frontier Rifles were deployed in 5 villages near Debra after three CPM activists were hacked to death and 42 others injured, 8 of them seriously, in a series of clashes with the Jharkhand party supporters today.
Read More...
Muslim State in India Today
The invasions of Muhammad bin Qasim, Mahmud of Ghazni and Amir Timur seem to have happened yesterday. The Qutb Minar in Delhi reminds one of Aibak and Iltutmish. One who visits the Taj Mahal of Agra, remembers Shahjahan.
Read More...
Jaffer Sharief quits Congress?
The Congress in the State plunged into a crisis on Friday, following reports that the former Railway Minister and KPCC Manifesto Committee chairman C.K. Jaffer Sharief has resigned from the primary membership of the party.
Read More...
Kumaraswamy has failed, says Jaffer Sharief
The Karnataka Government has failed on all fronts and the people will teach them a fitting lesson in the forthcoming local body elections, Congress leader and former Railway Minister C. K. Jaffer Sharief said here on Thursday. "The `unholy' alliance will be routed in the coming local body elections,"
Read More...
Mamata 1st leader from WB to present 4 rail budgets
Mamata Banerjee is the first leader from West Bengal to present four rail budgets, the overall record being held by Jagjivan Ram while Railway ministers from Bihar have done it a whopping 25 times.
Read More...
Parliament of Inida
Is he going to create all these hurdles at all the stages as he has done in the past? That is all I want to know from you. I request you kindly to approve this one and say `yes' for all these things.
Read More...
Work begins on Hospet by-pass road
bellary: the dream of hospet citizens to have a by-pass road seems set to be realised here. some mine owners came forward and started the ground work for the by-pass road which had been a burning issue for a couple of decades now. this 30-foot-wide road, starting from the adjacent side of the little flower school, will connect rayakere, harihara road after passing through joladarasi gudda.
Read More...
A challenge to the leadership
Cross-voting on a considerable scale by Congress(I) legislators in different States in the Rajya Sabha elections is seen as a concrete sign of a revolt brewing against Sonia Gandhi's leadership of the party.
Read More...
XII LOK SABHA DEBATES, Session II, (Monsoon) Thursday, August 06, 1998 / Shravana 15, 1920 (Saka)
Requests the Central Government to make a statement and investigate the murder of five persons belonged to a Muslim community by the police in Muzaffar Nagar District in Uttar Pradesh.
Read More...
Cong ready to tackle "forced" polls: Sharief
The Congress is "not in a hurry to remove'' the BJP-led government at the Centre and wants it to last, former Union minister and Congress leader C K Jaffer Sharief has said.
Read More...
Sharief decision puts Congress in fix
The Congress in the State plunged into a crisis on Friday, following reports that the former Railway Minister and Karnataka Pradesh Congress Committee Manifesto Committee chairman C.K. Jaffer Sharief has resigned from the primary membership of the party.
Read More...
Jal Khambata
On a day when Congress President Sonia Gandhi shed all inhibitions to venture out of 10 Janpath to canvass support for herself, the anti-BJP opposition unity suffered a serious setback as parties got angry at the Congress trying to "hijack" the new government, keeping everybody out.
Read More...
DEPARTMENT OF ATOMIC ENERGY
NUCLEAR POWER GENERATION - TARGETS AND ACHIEVEMENTS
Read More...
Who needs bravehearts?
Fortune does not always favour the brave. Margaret Alva must be ruing the fact that it was she who has had to bring up the subject about sons and grandsons and not CK Jaffer Sharief himself.
Read More...
PARLIAMENT OF INDIA RAJYA SABHA
TENTH REPORT OF JOINT PARLIAMENTARY COMMITTEE ON THE FUNCTIONING OF WAKF BOARDS
Read More...
Deve Gowda keeps Congress waiting
JD(S) supremo HD Deve Gowda's move to float the Third Front as an alternative to the Congress-led UPA and BJP-led NDA atTumkur on March 12, has forced Congress president Sonia Gandhi to rush two senior party leaders from Karnataka —CK Jaffer Sharief and Margaret Alva — to meet the former prime minister on Wednesday.
Read More...
Congress a house divided in Karnataka
Assembly Elections: Rivalry between SM Krishna & Jaffer Sharief worrying
Read More...
AICC Reshuffle Soon
Turks Jyotiraditya Scindia, AICC secretary BK Hari Prasad, Pawan Kumar Bansal, Paban Singh Ghatowar, Ramesh Chennithala as also Begum Noor Bano could figure in the reconstituted party secretariat, party sources said.
Read More...
Changing face of Congress
The Congress organisation is likely to undergo major changes soon after the AICC session at Hyderabad later this month. The conference may pass a resolution entrusting Rahul Gandhi with running and rejuvenating the party with young blood. Party stalwarts like Pranab Mukerjee, Ghulam Nabi Azad, Kamal Nath, Mani Shanker Aiyyar and the like have joined the Government as Ministers.
Read More...
Colours of Tokenism
With Muslim voters to impact 129 Lok Sabha seats, parties are competing among themselves to woo them and minority leaders are eyeing an opportunity to revive their political fortunes.
Read More...
Community News:
Mahandawel (Sant Kabirnagar): Members of Anjuman Islah-e-Muashara (Organisation for Social Reform) are actively involved in eradicating social evils and creating educational awareness among Muslim women. In a social reform meeting, Maulana Muhammad Umar Nizami, head of the Anjuman said it is time we educate our women.
Read More...
I will speak my mind: Sharief
Senior Congress leader C K Jaffer Sharief who has resigned from the party is in the capital to hold talks with Congress president Sonia Gandhi upon her invitation. He spoke to Deccan Herald on issues rankling him:
Read More...
CK Jaffer Sharief
(L-r) A commemorative postage stamp of late actress Nargis Dutt, was released by Union Railway Minister CK Jaffer Sharief, Union Communication Minister Sukhram and Sunil Dutt in Mumbai in 1993.
Read More...
Leaders mourn Sunil Dutt
Condolence messages poured in over the passing away of Sunil Dutt, Union Minister for Sports and Youth Welfare and film star.
Read More...
Kesri forced to retreat
It was a bad day for Congress president Sitaram Kesri today at the party plenary session.
Read More...
Sonia senses chance, seeks to keep seniors in good humour
After having rubbed senior party leaders Sitaram Kesri, Sharad Pawar and C K Jaffer Sharief the wrong way recently, Congress president Sonia Gandhi has embarked on a mission to pacify them.
Read More...
Ads which come to bury Caesar, not Praise him
India's newspaper love Independence Day. They absolutely glory in it.
Read More...
No Tears For Rao
Post-sentence, the former prime minister finds rivals in the party itching to settle scores with him.
Read More...
Sonia issues tickets as the Congress train chugs along
Sonia Gandhi has taken over distribution of tickets in the party, rendering the Congress Election Committee headed by Sitaram Kesri virtually redundant.
Read More...
Shift U.N. headquarters: Jaffer Sharief
In the light of the "murky" role of the U.S. in the execution of the former Iraq President, Saddam Hussein, the United Nations should immediately shift its headquarters from the U.S. to a Third World country, the former Union Minister and president of the People's Front, C.K. Jaffer Sharief, said here on Friday.
Read More...
Karnataka Wakf Scam: Muslim leaders in the doc
A huge wakf property scam has rocked Karnataka as the Karnataka State Minority Commission head Anwar Manipeddy has submitted a 7000 page report to the Chief Minister D V Sadananda Gowda giving details of misuse and misappropriation of Wakf properties in the entire state by prominent Muslim leaders and personalities apart from industrialists and businessmen.
Read More...

Published Article
1 Killed, 20 Injured as Bombs Explode on 5 Trains in India
Bombs rocked five express trains racing across India on Monday, killing one passenger and injuring at least 20 others as the country warily marked the first year since the destruction of a mosque by a swarm of Hindu militants.
Read More...
Jaffer Sharief says he voiced feelings of Cong workers
Former Union minister and veteran Congress leader C K Jaffer Sharief not only defended his remarks about migrants gaining an upper hand in the party, but also said he was voicing the feelings of thousands of Congress workers who have toiled for the party.
Read More...
I am not hungry for power: Sharief
One of the few Congressmen, who has seen and worked with all generations of the Nehru family, C.K. Jaffer Sharief is viewed as a person able to "get things done'' by either putting in his papers or writing letters to the party high command.
Read More...
The Female Factor
There have been no cries of 'amma, thayi' , little breast-beating, and virtually no tears flowing from the ladies' wings of Sonia Gandhi's election meetings. But make no mistake, signora's attempt to pave the way for the Congress by reviving the spirit of the defunct Nehru Gandhi dynasty among women is gaining steam.
Read More...
Selling Sonia
Indira Gandhi would never have envisaged this role for her Italian bahu. But there she was on the centrestage of Indian politics, orchestrating the resurrection of the Congress and emphatically reiterating the stranglehold of the Nehru-Gandhi dynasty over the 113-year-old party.
Read More...
Abject surrender to ISI lobby
The Nadwa episode exposes the extent of dilution that has sent in our secular nationalism and patriotic sentiments. It also shows our inexhaustable willingness to compromise national interests.
Read More...
Florida Linguistics Podcast
Welcome to the Florida Linguistics Podcast homepage. Here you will find an archive of linguistics-related interviews, roundtable discussions, and speeches by linguistics experts.
Read More...
People Named Sharief
Policymakers should go beyond expressing concerns about the financial distress ... Jaffer Sharief strove hard to move towards a uniform broad gauge system.
Read More...
CM swears by accord with JD(S)
The chief minister claimed there were 'no major hurdles' in undertaking the cabinet expansion.
Read More...
Krishna will lead Cong in polls
State Co-operation Minister Vishwanath, who had stirred a hornet's nest by issuing statement against alleged power grabbers in the Congress earlier, on Wednesday appeared to be cautious in airing his opinion on Jaffer Sharief's stand on Krishna's leadership.
Read More...
RAILWAY BUDGET, 1993-94
Speaker, Sir, I rise to present the Revised Estimates for the year 1992-93 and Budget Estimates for 1993-94 for the Indian Railways.
Read More...
Minor Course Correction
Far from being any kind of a major tactical exercise, Prime minister Narshimha Rao's reorganisation of portfolios.
Read More...
Sonia gives up pole position to woo allies
Mumbai/New Delhi, Dec. 28: Sonia Gandhi today appeared to suggest that the alliance the Congress is proposing need not project her as the prime ministerial candidate as it goes into elections.
Read More...
General Elections 1999
General elections will take place some time in the five weeks between September 1 and October 7, the Election Commission of India announced on May 4.
Read More...
Disconnect between Sonia and her audience
Congress president Sonia Gandhi, who hogged the limelight at her party's election rally here Monday with her disarming style, studied silence and gracious presence, had to face disconnect with her audience due to language barrier and tight security.
Read More...
REVOLVING CHAIR
The crisis in BJP due to dissidence has made citizens wonder — can't we have a stable government and focus on development?
Read More...
Birthday celebration
Birthday Celebration: Frontier Gandhi Khan Abdul Ghaffar Khan (left), Prime Minister Mrs Indira Gandhi and President of India V V Giri planting sapling, commemorating birth anniversary of Pandit Jawaharlal Nehru, at Shanti Van in New Delhi on November 14, 1969.
Read More...
It's Head Hunting Time
On December 1, Minister of State in the Prime Minister's Office, Aslam Sher Khan, drove to 10 Akbar Road, residence of Environment Minister Rajesh Pilot. The visit was bound to raise eyebrows, for it is generally known that Pilot's relations with Prime Minister PV Narasimha Rao are rather strained. Read More...
Don't take minorities for granted: Sharief
The former Railway Minister and veteran Congress leader C.K. Jaffer Sharief on Friday warned the Congress leadership at both the Centre and in the State not to expect blind support from minorities and said that there was the danger of them going over to the smaller parties, if neglected. Read More...
Cong ignoring minorities: Sharief
Senior Congress leader C K Jaffer Sharief on Friday came down heavily on the Congress and alleged the party had forgotten the minorities. He warned that party leaders both in the State and Delhi that the minorities will go towards regional parties, if ignored. Read More...
RAILWAY BUDGET, 1991-92 GENERAL DISCUSSION
Kolhapur has got historical importance followed by its predominance in agriculture and industry. Its railway station is one of the oldest stations in India and centenary celebrations had already been observed. The Kolhapur railway station requires many improvements. Read More...
The hand is the guiding force
The five-year-old, snot running down his nose, stared at the Eclair toffee in C K Jaffer Sharief's hand, then at the man himself, and finally at the 300 D dark metallic grey Mercedes. Read More...
Environmental disaster, its conservation in J&K
Jammu and Kashmir State being mountainous in nature, has been divided into three distinct regions. Read More...
Clash over place of worship
Ten persons were injured and two houses torched in a communal clash that broke out at the sensitive K G Halli on Thursday. Read More...
Rao goes down memory lane
Former prime minister P.V. Narasimha Rao on Saturday virtually re-lived his student days in Vidhana Soudha. Read More...
Track to Srinagar: Railways lays it all on toughest 290-km line
Arguably the most difficult railway project ever attempted in the country, the 290-km rail line linking Jammu with Udhampur, Srinagar and Baramulla will have 783 bridges and 109 km of tunnels. It will put the Kashmir Valley firmly on the rail map and bring the region into the national mainstream. Read More...
Cong sings 'saree' ga ma on Sonia's b'day
In what could be described as an election speech, chief minister S.M. Krishna on Tuesday said there was no need for the Congress in Karnataka to be disheartened by the party's performance in the north, as it would emerge victorious in the polls, under KPCC president B. Janardhana Poojary. Read More...
One more train to Delhi in next budget
Railway Minister Nitish Kumar on Sunday announced that the Railways would introduce one more daily Express train between Bangalore and New Delhi. This would be incorporated in the next Budget. Read More...
India's longest flyover opens
Arriving in a car personally driven by BDA commissioner Jayakar Jerome, chief minister S.M. Krishna inaugurated the Hebbal flyover on Monday to the accompaniment of bursting of crackers. Read More...
APPROPRIATION (RAILWAYS) BILL-, 1993
THE MINISTER OF RAILWAYS (SHRI C.K. JAFFER SHARIEF): Sir, I beg to move for leave to introduce Bill to authorise payment and appropriation of certain sums from and out of the Consolidated Fund of India for Services for the Financial year 1993-94 for the purposes of Railways. Read More...
POLITICAL
Letter from the Acting President of the People's Republic of Bangladesh Syed Nazrul Islam to the President of India, seeking Indian recognition of Bangladesh. Mujib Nagar, April 24, 1971 Read More...
Kashmir can''t be gifted to Pak.:Farooq
The Chief Minister of Jammu and Kashmir, Dr Farooq Abdullah, said on Wednesday that Kashmir could not be handed over to Pakistan merely to win the friendship of that country . Read More...
Jaffer Sharief Pakistan
That part of india which is known as pakistan. India must end the uncertanity about kashmir's future and prohibit any debate in the country of it's status an as integral part of india. Read More...
Term Babri demolition 'criminal act': Rahul
Congress general secretary Rahul Gandhi on Saturday suggested that the demolition of the Babri Masjid should be mentioned as a "criminal act" in the draft of the party's political resolution before the two-day Congress plenary session beginning on Sunday. Read More...
One after other, BJP splits Cong families
Veteran Congress leader Arjun Singh's son Ajay today called on L.K. Advani and BJP chief M. Venkaiah Naidu separately, fuelling speculation on what could be the biggest blow yet to Sonia Gandhi's party. Read More...
Visions Of Tomorrow
IF I were in a position to campaign for you, would I have not contested the elections myself?" This was P.V. Narasimha Rao, five days before Rajiv Gandhi's assassination. Read More...
S M Krishna sanctions Rs 1 cr for Russell Mkt
External Affairs Minister S M Krishna does not want a mall built at Russell Market which witnessed a major fire on Saturday morning. Putting his weight behind repair and renovation, he has promised to provide up to `1 crore from his Member of Parliament Local Area Development Scheme (MPLADS) funds. Read More...
Request for withholding transfer of funds
The Ministry of Statistics and Programme Implementation have addressed a letter dated 23 November, 2001 to the Lok Sabha Secretariat enclosing therewith a copy of letter dated 16 November, 2001 from Shri Moinul Hassan, MP (LS) regarding withholding transfer of funds/withdrawl of consent of contribution made towards the rehabilitation works in the cyclone affected areas of Orissa Read More...
PARLIAMENT OF INDIA
Action taken by the Government on the recommendations/ observations made by the Committee on MPLADS, Rajya Sabha in its meetings held during the period from 28th November, 2000 to 27th May, 2002 Read More...
Health gets less from Sharief's MP funds
A whopping Rs 1.65 crore spent on construction of 110 bus shelters under the MP Local Area Development Scheme (MPLADS) in Bangalore north Lok Sabha constituency has drawn flak from the people. Read More...
Engagements
Discourse on Bhagavad Gita: Swami Chandreshanandaji, Ramakrishna Vivekananda Sadhana Kendra, Om Nilaya, Vivekananda Marg, Gokul Extension, Devasandra, K.R Puram, 5.30 p.m. Read More...
MUSLIM WOMEN IN ACTION
When it comes to plight of Muslim women, the society reflects two distinct lines of thought. On one side are those who lay the blame on the doors of Islam and the Muslim Personal Law for their miserable condition and on the other are those who - particularly the ulema - who seem to believe that all is fine on the Muslim women's front and all that appears in the media is propaganda by the interested quarters. Read More...
PARLIAMENT OF INDIA BILL
Secondly, everybody has repeatedly said about it and we have been craving for a Zone for Kerala. I am told that Kerala is the only State where the Railway Zone is not in existence. I do not know as to what is the difficulty in having that. Read More...
Officials bring down 'disfiguring' parties
Taking serious note of banners and buntings illegally put up in public places, the Returning Officers of Gandhinagar and Rajajinagar constituencies have served notices to various party candidates for disfiguring public places. Read More...
Ministers differ with Sharief's statement on Krishna
Two Muslim ministers in Chief Minister S M Krishna's ministry today sought to differ from the views of senior congress leader and MP C K Jaffer Sharief, who recently stated that Mr Krishna cannot lead the party in the next Assembly elections. Read More...
Sharief warns Sonia against coterie, seeks Pachmarhi-type conclave
Veteran Congress leader and former Union minister C K Jaffer Sharief has told party chief Sonia Gandhi to rid herself of the coterie around her and convene a ``Pachmarhi-type conclave'' to do a rethink on the party strategy after the recent series of poll debacles. Read More...
Cong loses poll script as CM war rages on
With all senior Congress leaders eyeing the chief minister's post in Karnataka, the party seems to have lost its initial advantage in the elections next month. A sense of euphoria over the upcoming assembly polls may soon see the country's grand old party, Congress, self destruct, with almost all senior party leaders in the state throwing their hat in the ring for the chief minister's post. Read More...
Congress to brainstorm on strategy against BJP
The State Congress, which is in a combative mode has decided to up its ante against the BJP government apart from making steadfast preparations to face the next Assembly elections. Read More...
I am 100 pc pro-Dalit, always a Cong man'
Three days after he raised many eyebrows with his presence at an office bearers meeting of the Bahujan Samaj Party, senior Congress leader C K Jaffer Sharief on Tuesday said that he was "100 per cent" with the Dalit movement and he was for the mobilisation of Dalits, minorities and backward classes. Read More...
From Jal Khambata
The birth anniversary of Constitution framer Babasaheb Ambedkar marked war cries from both the Congress and the Bhartiya Janata Party to battle out the Constitution review in Parliament that resumes its session on Monday after a month-long recess. Read More...
DIARY
Is there a larger Dalit design which the Congress is trying to put in place? Only days ago, it seemed certain that Mayavati was all set to adorn the chair of the deputy chairperson of the Rajya Sabha, allegedly at Congress-prompting. The Dalit queen had packed her bags and left Lucknow in a jiffy to file her nomination. Read More...
NEED FOR OVERHAUL?
A virtual countdown is happening in Congress circles in Karnataka, with mid-July expected to bring a panacea for the party's woes. In the ongoing organizational polls, the state unit chief and other members are to be elected in July. Read More...
Veteran Congman Sharief at BSP meet 'to enquire about Kanshi Ram's health'
Former union minister and veteran Karnataka Congressman C K Jaffer Sharief has virtually put the party high command on alert by his presence at a Bahujan Samaj Party (BSP) meeting, addressed by Mayawati in Bangalore on Sunday. Read More...
Untested waters
Karnataka gets ready on a low-key note for multi-cornered contests, which may throw up a fractured mandate. Read More...
Sharief for Prez rule in Ktk
Veteran Congress leader and former Railway Minister C K Jaffer Sharief today asked the Centre to accept Karnataka Governor H R Bhardwaj report and impose President's rule in the state. Read More...
Jaffer Sharief, Jain bros dischared in hawala case
Special Judge V B Gupta on Tuesday discharged former railway minister C K Jaffer Sharief and the four Jain brothers in the Rs 650 million hawala case. Read More...
Were you busy eating pakodas, murdered S Natraj's sister asks police
S Nataraj's relatives were furious after they came to know about his murder. His sister Mallika verbally abused the police. She wondered what the police were doing when an elected representative was attacked so close to a police station. She asked the police whether they were busy eating Rs5-worth bonda and pakoda. Read More...
C K Jaffer Sharief,Sanjay Khan
Minister Jaffer Sharief (L) in conversation with Sanjay Khan (2L) during the funeral procession of Late Bollywood actor Feroz Khan in Bangalore on Monday, April 27, 2009. Read More...
Jaffer Sharief chairman of Cong Karnataka Manifesto Committee
Former Union Minister C K Jaffer Sharief was today made Chairman of the Manifesto Committee for Karnataka by Congress which also constituted four other committees for the assembly polls expected by May-end. Read More...
Indian Kanoon - CK Jaffer Sharief
CALLING ATTENTION (RULE-197): Shri S. Bangarappa Called The ... on 16 December, 1999
Read More...